SIDNEY — It took Mark R. Smith 48 years to get a college diploma.
The 67-year-old Sidney man celebrated his graduation from Miami University, May 15, 2022, with his wife and three children — all of whom had earned their own degrees during those long decades — cheering his achievement.
"I was in tears," said daughter Meggan Smith, of Austintown, when Mark's name was called during the ceremony in the Goggin Ice Center on the Oxford campus.
Wife Mary, of Sidney, daughter Melissa Anthony, of Ashtabula, and son Mike Smith, of Andover, also were bursting with pride.
"I was just super proud," Melissa said. "I'm amazed at his diligence. It was such a long time coming up."
"Proud, very proud, to see that he stuck with it for all these years and finally got at the point he wanted to be at," echoed Mike.
And what was Mark, himself, feeling as he crossed the stage to be congratulated by Vice President and Dean of the College of Liberal Arts and Applied Science Ande Durojaiye?
"A little relief that it was over, but a little anxious because grades haven't been posted yet," he said. The worry wasn't whether he had passed, but hope that his cum laude (with honors) status might be magna cum laude (high honors), instead.
"If it wasn't an A, it wasn't a good grade" for him, Mary laughed.
Mark's college career began in 1974, a year after he graduated from Mentor High School and the same year he married his high school sweetheart, Mary.
"I was working as a department manager for a discount store, and I saw that my career path was limited," Mark said. "I didn't know what I wanted to do."
Because he was interested in drafting and had always been mechanically minded, he signed up for a class in engineering drawing at Lakeland Community College in Kirkland.
"So, I took a couple of courses, but then life gets in the way," he said. Children arrived in 1975, 1976 and 1979. He got a job with an oil and gas production company, and the family moved to Painesville and then to Dorset.
When the company went out of business in 1988, Mark qualified for retraining funds through the federal Job Training and Partnership Act. He went back to college, this time at Youngstown State University. He completed a two-year course in mechanical engineering technology in one and a half years and earned an Associate of Applied Science.
During that time, Meggan left for college in Pennsylvania, Mary began classes at Kent State University's Ashtabula campus, and Mike graduated from high school and enrolled in Vale Technical Institute in Blairsville, Penn.
Associate's degree in hand, Mark began working for a cathodic protection company in Dorset. Additional classes were again put on hold, as he moved through the ranks from technician to general manager.
It was Melissa's turn next to leave for college, and in 1997, empty-nesters Mark and Mary moved to Sidney.
"In March 1998, I took a job at Crane Pumps in Piqua in the engineering department. I moved up in the company, and the next step for me was to become a design engineer," Mark said. He was told that when he had completed eight years in the department, he would get the promotion, but when eight years had passed, a new vice president said, "You're not getting that title without a four-year degree."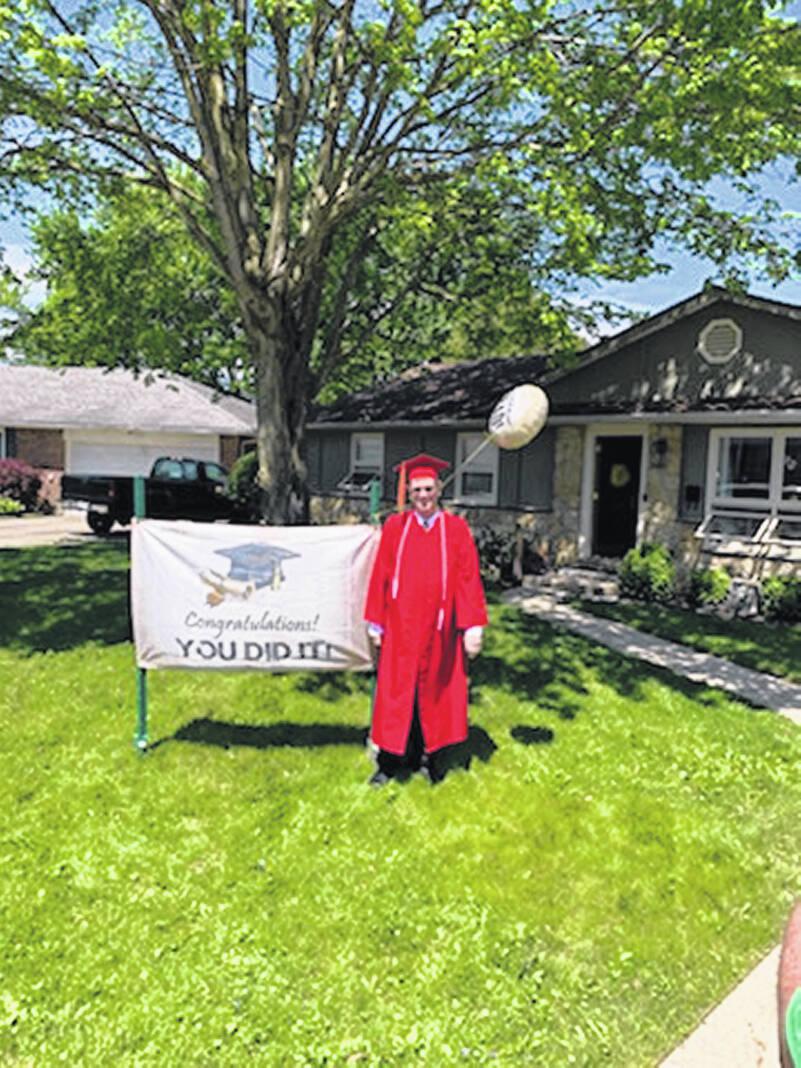 It had been 16 years since Mark had gone to school, but in 2006, he searched for an engineering technology program in which to enroll.
"I looked at University of Dayton and Miami and decided on Miami," he said. But he began the next phase of study at Edison State Community College in Piqua, focusing on general courses that were required for the degree and whose credits could transfer to the Oxford school. He completed one or two classes each semester and finally enrolled at Miami in 2012.
"The difference between engineering and engineering technology is that an engineer invents the wheel. An engineering tech figures out uses for the wheel," Mark said. Miami's classes in engineering technology were offered at its various satellite campuses, so Mark, by now very much a non-traditional student, travelled to Middletown, Hamilton and Westchester to get everything he needed for the program.
"Not every class was offered every semester, so it took a long time to complete all the steps in the core sequence," Mark said. A benefit of working at Crane Pumps was that the company reimbursed him for tuition.
And then COVID happened.
"In 2020, I had eight classes to go," he said. Crane had a downturn in sales and started to trim staff. Even though Mark had been on the payroll for 22 years, his job was eliminated. With a severance and retirement package, he decided to foot the bill, himself, for the last of his classes.
"I just wanted to complete it. I could see the end. It was one of those personal goals I felt I needed to accomplish. I'd worked so long and so hard, it seemed ridiculous that I wouldn't finish," he said.
And his favorite class of all was his last one: a capstone project in which he and two classmates created a laboratory experiment model that can be integrated into existing curricula, giving future students opportunities to use currently underutilized immersion ultrasonic equipment the college owns.
"He stepped up and took the leadership role," said Bill Ryan, of Springboro, one of the classmates. "He made sure we all shared the work. He was kind of a linchpin. Mark was the one who put it all together, to be honest."
And then, after 48 years, he was done. No more courses to take, papers to write or books to buy.
He had gone from classes that required using T-squares and drafting tables to carrying a laptop for computer-aided design. He had become older than all of his classmates and some of his professors. And he had watched as teachers and textbooks became sensitive – more politically correct – in how material was presented.
He, himself, recognized that, through the years, he had grown more tolerant of fellow students.
"At Youngstown State, if you weren't likely to be one of the top five students in class, I (didn't have time) to associate with you," he admitted.
His adviser at Miami, Professor Rob Speckert, noted that Mark was very appreciative of the help and direction he received.
"And from a (grade point average perspective), he was outstanding," Speckert said. "Just an outstanding student. We hope he remains connected with us, judging senior design projects or being on the industry advisory council."
Mark isn't sure what comes next for him. A master's degree probably isn't in the cards, he said. For now, his Bachelor of Science in Applied Science is enough. He likes taking his 1986 Corvette to car shows, learning new software and repairing computers. Ever the tinkerer – his mother-in-law calls him "Maintenance" and his kids call him "Answer Smith" – he recently learned that it's possible to construct 3-D printer models using a smart phone.
"I'm definitely going to explore that," he said.
That wouldn't surprise daughter Meggan. She said her dad's perseverance has taught the whole family a grand lesson: "It's never too late to start over and try for a dream."
Mark R. Smith, of Sidney, played the sousaphone in the Mentor High School band in 1973. https://www.sidneydailynews.com/wp-content/uploads/sites/47/2022/05/web1_Mark-with-tuba-1.jpgMark R. Smith, of Sidney, played the sousaphone in the Mentor High School band in 1973. Courtesy photo Mark R. Smith, of Sidney, at graduation exercises at Youngstown State University in 1990, when he received his Associate of Applied Science. https://www.sidneydailynews.com/wp-content/uploads/sites/47/2022/05/web1_Mark-YSU-May-1990-1.jpgMark R. Smith, of Sidney, at graduation exercises at Youngstown State University in 1990, when he received his Associate of Applied Science. Courtesy photo Mark R. Smith, of Sidney, with a sign announcing his achievement in front of his home, Sunday, May 15, 2022. Smith earned a Bachelor of Science in Applied Science from Miami University, 48 years after he took his first college course. https://www.sidneydailynews.com/wp-content/uploads/sites/47/2022/05/web1_Mark-Smith-1.jpgMark R. Smith, of Sidney, with a sign announcing his achievement in front of his home, Sunday, May 15, 2022. Smith earned a Bachelor of Science in Applied Science from Miami University, 48 years after he took his first college course. Courtesy photo His wife, Mary, children, and grandchildren join Mark R. Smith, of Sidney, in celebrating his graduation from Miami University, May 15, 2022. https://www.sidneydailynews.com/wp-content/uploads/sites/47/2022/05/web1_Mark-with-family-1.jpegHis wife, Mary, children, and grandchildren join Mark R. Smith, of Sidney, in celebrating his graduation from Miami University, May 15, 2022. Courtesy photo Mark R. Smith, of Sidney, in red cap and gown, receives his diploma from Ande Durojaiye, vice president and dean of the Miami University College of Liberal Arts and Applied Science, during ceremonies, May 15, 2022 in Oxford. https://www.sidneydailynews.com/wp-content/uploads/sites/47/2022/05/web1_Mark-handshake-1.jpgMark R. Smith, of Sidney, in red cap and gown, receives his diploma from Ande Durojaiye, vice president and dean of the Miami University College of Liberal Arts and Applied Science, during ceremonies, May 15, 2022 in Oxford. Courtesy photo Mary and Mark Smith go cruising in their Corvette. https://www.sidneydailynews.com/wp-content/uploads/sites/47/2022/05/web1_thumbnail_Resized_IMG_1006.jpgMary and Mark Smith go cruising in their Corvette. Courtesy photo
By Patricia Ann Speelman
Special to the Sidney Daily News