The modern era advancements offer amazing technologies for healthcare sectors, warehouses, and other industries. Barcode technologies have redefined safety, efficacy, and errorless services while minimizing the human efforts and inaccuracies. With the help of the barcode scanner and its integration in various devices, the professionals can avoid data transmission using paper-based documents and improve inter-team collaboration through real-time data management and collection. These integrations include handheld devices, tablets with barcode scanner, and more.
How Does a Barcode Scanner Work?
If you have ever been to a supermarket, you must have noticed the cashier using a barcode scanner or a barcode reader for pricing and packaging. All the modern era products have a barcode on the labeling. Any barcode tablet can quickly read this unique identification mark and fetch relevant results from the database. A barcode reader is an optical reader that can not only read the barcode labeled on the document but can decode it and send it back to the database. Every barcode reader consists of three main things: a light source,  a lens and a light sensor. Therefore, a barcode reader tablet can easily transform optical impulses into electrical signals.  Additionally, all barcodes have decoder circuitry that can quickly:
· Decode and analyze the barcode from the product
· Turn it into information
· Send it to the barcode's output port for further processing
The majority of products contain a simple barcode, known as a UPC (Universal Product Code). These barcodes also contain a number underneath them. The user can manually input them if the barcode reader is not working. This eliminates any need for human labor and reduces the margin of errors. This is made possible with predefined software programs in any android barcode tablet.
This is how tablets with built in barcode scanners can help in every sector. A bar code scanner for tablets allows modern-era managers and employees to easily take care of everything with a central database.
Benefits of Using a Tablet with Barcode Scanner
Modern era windows tablet with integrated barcode scanner offers a lot of benefits to the users. Let's take a look.
· Save Time.
The first and foremost benefit of using a barcode scanner is time efficiency. All the barcode scanners can quickly scan the barcode within a few seconds and allow the users to do inventory checks quickly.
Every tablet with built in barcode scanner minimizes the amount of time required for inventory management and makes the entire process more efficient by eliminating the need for physically checking everything in the inventory.
· Minimize Labor Costs.
The second most important benefit of using a rugged tablet pc with barcode scanner is reducing labor costs as it only takes a few minutes to learn how to use a barcode scanner.
Moreover, since the time is also minimized with the help of a barcode scanner, the laborers will not have to spend weeks doing inventory management, which can result in a decrease in labor costs.
· Reduce the Margin of Errors.
Another important benefit of using a barcode scanner is reducing errors since minimum human labor will be involved. Barcode scanners can easily scan the unique barcode and verify everything with a central database to reduce the margin of error.
All the employees will have to do is scan the barcode with the windows tablet with built in barcode scanner and wait for the machine to take care of everything.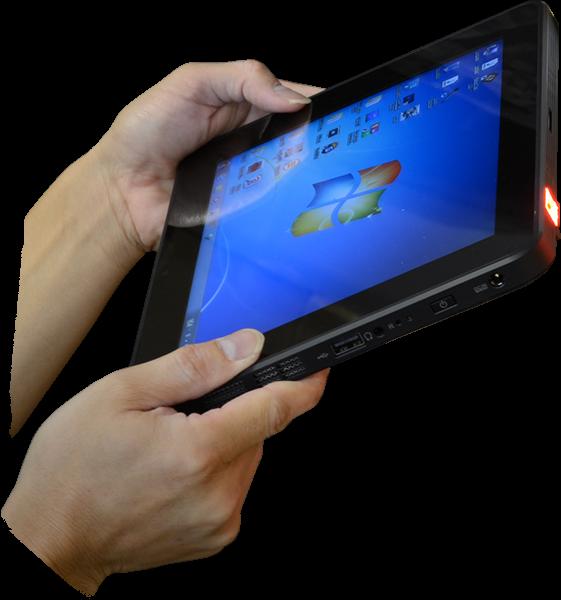 · Have a Better Control over The Inventory.
With the help of a rugged android tablet barcode scanner, managers will be able to control the inventory better and will be able to stay constantly in sync with the current inventory.
The managers can easily check the inventory's current status and ensure that everything is in place, including the quantity, shipping, and receiving. With the help of a centralized database system, the managers can also look up what stocks are not moving and get rid of unused stocks for more products in the warehouse.
· Offer an Enhanced Level of Customer Service.
Lastly, barcode scanners can help offer an enhanced customer service level by allowing them to take care of everything quickly. The users can easily cater to customer queries by letting them know what items are available or when these items will be available as soon as possible with the help of a barcode scanner.
The customers will not have to wait for hours for the managers to get back to them. And they can quickly look up everything within seconds when they have a barcode scanner in their hands.
Moreover, a centralized database system will also alert the managers when certain stock is getting low. They can quickly get a refill from the supplier without making the clients wait for weeks for the specific product.
Medical Tablets with Barcode Scanner Application
Rugged medical tablets are slowly becoming a norm in most healthcare sectors as a tablet with a barcode scanner can easily take the daily wear and tear. Moreover, a rugged medical tablet with a barcode scanner is also waterproof and can easily withstand any chemical discharge on the front screen.
Every medical tablet with barcode scanner is also fast and offers quick information at the hands of doctors and medical practitioners. Therefore, the modern era tablets and barcode scanners can help the healthcare sectors reduce any admission errors or hospital care errors with a centralized database system.
With the help of a tablet with a barcode scanner, the doctors and medical practitioners can easily offer an enhanced level of patient care. The doctors will be able to scan the barcode associated with the patient, and have all the documents readily available in front of them.
They will not have to shuffle through hundreds of paper-based documents, and can easily view all documents, x-rays, CT scans, etc., within a minute. These barcode scanners and medical tablets can also reduce any pharmacy errors and allow doctors to better diagnose patients with the help of quick information available to them. Our medical android Tablet MJ-80  built with integrated barcode scanner and it can be used for asset management, patient identification and more. With an IP65 water resistance and housing antimicrobial features, it is easy for cleaning and disinfection, ideal for the usage in the medical facilities in the COVID-19 times.
The pharmacists will have all the information regarding the patient's prescriptions in front of them. This way, they will reduce the margin of error by filling out the right pills. They will not mix up different paper receipts for prescriptions and will be able to offer the right medication for all patients.
Barcode Scanner Tablet application in Logistic
Any modern era tablet with an integrated barcode scanner can easily help take better control over the inventory management at any warehouse.The centralized database system can also inform the managers about what stocks are not moving and how to eliminate those stocks to make space for new items and products.The rugged tablet with barcode scanner can also be applied in almost any rugged environments from inventory control, shipping and receiving, to dynamic fulfillment ,enabling data collection, seamless communication, and automation in the logistic system, allowing efficient workflows, accurate inventory records, low costs, and minimal handling errors.
Moreover, application of tablets with barcode scanners can also reduce labor costs for inventory management as everything can be done within accuracy and efficiency. The barcode technology applied in tablet PCs  can also reduce the margin of error by taking care of everything with pre-programmed software applications. Consider an example of Estone technology's Rugged tablet with barcode scanner UA-80. This handheld tablet with barcode scanner and RFID reader is an ideal product for logistic applications.
Tablet with Barcode Scanner Application in Manufacturing Facilities
Modern era barcode scanners can easily help manufacturing facilities by offering a powerful control over inventory management, orders, and shipments. Mobile devices with a Barcode scanner can bring these technologies into more powerful applications, with more efficiency and accuracy.
The managers can easily take a look at what stocks need to be pushed out to different companies within the next week and can take care of everything with the help of a centralized database system that comes with a barcode scanner.
Moreover, the laborers can also take care of inventory by quickly scanning the items that have been produced and marking them "ready for shipment." An android tablet with an integrated barcode scanner centralizes the entire process. It allows the managers and laborers to have more control over the shipment and manufacturing process from the very beginning.
All modern businesses need powerful control over their inventory management and need to adapt paperless management methods.
Therefore, tablets with barcodes are extremely effective as it offers a centralized database system for taking care of everything and offers a singular platform for a wide array of internal processes. The pre-programmed software applications can be designed to alert the managers in case of any emergencies, and they can take care of everything without wasting any minute.
Barcode Tablet Application in other fields
Tablet with barcode scanner application is not limited to the logistics and healthcare sector. The fields of transportation, retails, food, Anti-counterfeiting, military and so on are heavily dependent on this advanced technology. There is still a long way to go for the full incorporation of the barcode technology on the large scale in all industries to ease the operational management and minimize human errors.
A handheld tablet with barcode scanner will not only maximize the efficacy of the scanning and the overall asset and supply chain management processes it will also reduce the human errors while maximizing outputs for the companies. The fields of medicine and supply chain have been integrating the tablets with barcode readerswhile many other industries can effectively incorporate this technology in their manufacturing and production sector.