When Ankur Warikoo was 13, he read "The big book of space" and took science tuitions for school children in the neighbourhood. As a teenager also looking to make a quick buck, Warikoo got a kick out of simplifying the steps in a water cycle to a confused elementary school kid.
In his early twenties, as a PhD student and a teaching assistant at Michigan State University, Warikoo spent 20 hours a week teaching undergrad students at the astronomy lab in the university. This ensured he received a 100 percent scholarship for his PhD studies, a stipend on the side and the joy of watching the undergrad students discover that seasons changing on the earth have more to do with the earth's axis tilt than the sun's position from the earth.
In 2019, when Warikoo turned 39 and stepped down as the CEO of NearBuy, a deal marketplace company that shot him to fame in India, he doubled down his efforts on creating mentorship and motivational content for 18-24 year old Indian consumers. Today, his videos about personal growth and finance are quite popular and easily cross over 1 million views on YouTube. His income, by his own admission as a content creator, coach and public speaker crossed Rs 12 crore in the year 2021 alone.
A teacher's kid himself, Warikoo's fascination with breaking complex things down in simpler terms and analogies started when he was in school, stayed with him through his higher education and early career and has now culminated into making him a digital mentor for the youth in the country.
Stepping Stones
Warikoo is by no means the most successful entrepreneur in India. He hasn't studied in an Ivy league school. In fact, he failed twice to get into Indian Institute of Technology, the country's most sought after academic institution. He's a PhD dropout from Michigan university. And his most successful tenure as the chief executive of NearBuy ended abruptly as the company was sold in a distress sale to payment giant PayTm. His list of failures is probably longer than his tallest success story.
In a country like India where success is often measured by education pedigree, crores in the bank and tangible assets like driving a Maybach, how did someone like a Warikoo flaunting his failure resume become a youth icon?
The short answer for this is by making relatable content. What differentiates him from other entrepreneurs and content creators is his unique ability to understand people, including himself.
Even as a kid, Warikoo had figured that when he simplified a textbook concept to a junior or peer in school, not only was he helping his junior understand something, he was also helping himself understand the concept better.
"Warikoo always had this leader-like trait of always encouraging people to become the best versions of themselves," said Snehesh Mitra, co-founder of NearBuy. Mitra said even during very tough times of not being able to raise money or laying off a chunk of employees, Warikoo showed immense optimism and clarity of thought. Mitra believes a lot of those learnings of highs and lows in the business translates to Warikoo's line of thinking and reflects in his content today.
Ankur Warikoo with Nearbuy cofounders Ravi Shankar and Snehesh Mitra
Warikoo looks up to Shah Rukh Khan, not the actor, but the entrepreneur.
"Shah Rukh Khan said in an interview that if I don't wake up in the morning every day feeling and knowing that I am Shah Rukh Khan the king of Bollywood then no one else will," said Warikoo, adding that like Khan, he has immense belief in himself and his decision of becoming a mentor and content creator is a bet he's making on himself.
When Warikoo gets on an hour-long video call with me to summarise his life journey, he emphasised that I should not expect a Bollywood-like movie story. His life story though sounds every bit like a film script.
Born in a family with meagre income, Warikoo had an ambitious four-step dream check-list—complete Aerospace engineering from IIT, get a Masters degree from a US university, join NASA and be the first man to land on Mars. But as a PhD student studying astrophysics at the Michigan University, Warikoo realised that studying physics or living the life of an academician or even working at NASA would not have made him happy.
"I realised that if I continue doing what I was doing, I would get all the socially desirable outcomes of what people call success. But I could extrapolate myself several years down and felt I wouldn't be happy and most likely get stuck at a job I don't like," said Warikoo.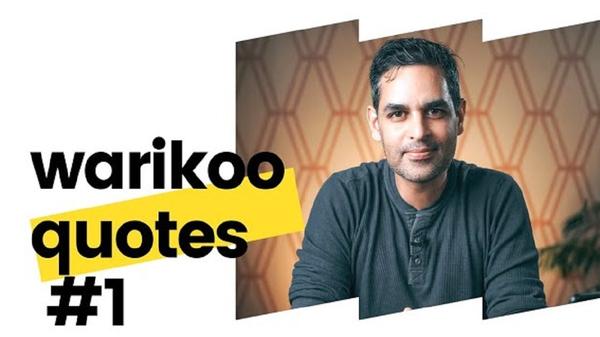 Return to India
After he dropped out of the PhD programme, Warikoo came back to India to figure what actually would make him happy. He opted to study business administration and got selected at the Indian School of Business.
"With almost 300 people on the campus, Warikoo was easily one of the first people you'd notice," said Prameet Kamat, Warikoo's batchmate at ISB. In every batch, there are a few standouts. Warikoo was clearly one with his high energy personality, problem solving attitude and an intent to genuinely help people, said Kamat.
Kamat remembered how 90 percent of students in their batch struggled with statistics, a subject Warikoo was good at and offered to teach to anyone who thought they needed help understanding.
With an extensive course spread over 10 months where students spent 18 hours a day, attending classes and finishing assignments, Warikoo with a highly organised schedule, managed to find time to teach other batchmates, pursue his interest in photography, play basketball and still ace his assignments. After he finished his course at ISB, Warikoo briefly worked at consulting firm A. Kearney, and helped set up startups such as Accentium Web and Gaadi before he joined as the country head for Groupon that later became Nearbuy.
Warikoo at ISB, playing DJ at one of the events
Even though Warikoo had been sharing life lessons in bits and pieces on his blog and other social media platforms since his days at the business school at ISB, his full-time plunge as a content creator came at an interesting point in his life. He stepped down as the chief executive at NearBuy, a role he played rather buoyantly for eight years and then took a three months break figuring out his next move.
The transition into content
Warikoo's transformation into a content creator is not by accident. He didn't stumble on YouTube one day to discover the platform or explore it as a side hustle to earn an extra income. Like all his previous endeavors, his journey into content creation is by design, meticulous planning and effort. He set out to build Brand Warikoo.
"I love teaching. It's something that comes naturally to me to simplify complex elements and make it very, very consumable for people who may not be at that same experience as mine," Warikoo said. "I've learned so much in the last decade being an entrepreneur, being a parent, being someone who's seen how everything has gone around that I would love to share all of that."
Over the years though, Warikoo's journey as a creator has evolved from short videos in an almost American accent catering to his peer group of entrepreneurs and startup folks to highly specific storified versions of life lessons in Hindi on YouTube addressed to an average ambitious fresher from a small town in Uttar Pradesh.
The penetration and reach of YouTube in hinterland India has been phenomenal. Last year, India had the highest number of active YouTube users globally. Around 225 million users are active on YouTube every hour, according to 2021 statistics by the company.
Warikoo's channel on YouTube that has 1.45 million subscribers contains more than 540 videos, of which 480 videos have been posted in the past two years. A mix of life lessons on business mistakes, personal finance, investment and career advice, his videos that target the Hindi-speaking belt of 18-24 year old Indians are on average the length of a television sitcom show. YouTube by design also promotes longform content like Warikoo's, but to hold the attention span of a young internet user who might very well spend those minutes watching a latest TV show instead is no ordinary feat.
"Ankur does not look down on young people—he talks to them as equals, and treats them as equals. It's been very clear that his biggest priority is not brand building, but community building, and he does that through constant interaction, engagement, time and respect given to young people," said Nikhil Taneja, founder and chief executive at Yuvaa, a GenZ-focused media company.
Young India's mentor
Taneja, who has years of experience interacting with young Indians, said in a country where young people are always looking for mentors, Warikoo has stepped up to fill a gaping hole by offering what seems to be a one-to-one interaction to every young person who engages with him.
There are two clear markers for Warikoo's success as a content creator: one is the value that comes from his content. To his credit, Warikoo in the last four decades has led an eventful life—one that spans multiple rejections by premier institutes, acceptance in a few, building an internet company during the startup boom in India and being the poster boy of entrepreneurship in India for a while.
He is refreshingly honest and doesn't shy from talking about his mistakes or laughing at himself. Warikoo capitalises on his failures knowing well that people will listen to his stories of failure because he has a few successes to his credit. He brings his most authentic self on camera with the vulnerability of someone opening up to an old friend.
Warikoo shoots all his videos at his home studio in a single take. For the most part, his videos are flawless and if he fumbles or mispronounces a word his video team doesn't edit it.
The second important marker that acts as a differentiator for Warikoo's content is the way he packages and markets it. Warikoo is a brilliant storyteller who can take you on a ride with him to his childhood in a rented house in Lajpat Nagar and the hardships he grew up with.
Because he speaks from experience with an endearing authenticity, he's immensely relatable. His stories, narrated with dramatic pauses are by design meant to invoke emotions in the viewers.
"I am a storyteller, and I feel that when you add drama, that's when you have your memory layers triggered," says Warikoo. "One can easily call out facts and figures but people forget but at the end of it we're all suckers for stories. And, and if you can relate the story well, then you have the attention of people," he says.
Warikoo speaking at a TEDx event
Warikoo's channel on YouTube is devoid of advertisement to ensure an immersive viewing experience. His Instagram content is a colourful mix of short eyeball grabbing videos and posts with titles such as "Three secrets to control screen time" or "My top books of 2020." On Twitter, in line with his audience and their expectations, Warikoo's profile is text-heavy and follows an almost monochromatic theme with threads on entrepreneurship and life lessons.
Warikoo makes money through affiliate revenue that comes from product links in his videos, brand endorsements, public speaking engagements and his online courses that are priced between Rs 400 and Rs 1,500.
A consistent theme in Warikoo's content is inspiring people to lead better, richer, happier and disciplined lives. Something he said he has learned over the years the hard way. His premium content and extension of his brand is his courses on entrepreneurship, investments and personal growth that he offers for a fee.
"My videos will never advertise my courses," said Warikoo acknowledging the tiresome frequency at which his marketing team pushes his ads on other videos on YouTube.
Warikoo said his ads on YouTube are to let more people know that he also conducts courses. Even though they make up a significant chunk of revenue for him, Warikoo said he doesn't talk about his courses on his own videos because he wants to build the trust with his audience enough for them to come and sign up for his courses.
Warikoo is not the first or only YouTuber to target the user base of 18-24 year old Indians.
YouTube giants such as Pushkar Raj Thakur and Vivek Bindra have been doing it for far longer and even have a subscriber base much higher than Warikoo's, said Ankur Agarwal, founder of digital media startup VideoSchool media.
But when Warikoo, who is probably one of the best internet marketers in India, enters the game, he hits LinkedIn, Instagram, YouTube, Twitter, all at once with a strong brand and that's what sets him apart, said Agarwal who is also a YouTube creator himself.
"A differentiator between other YouTubers targeting the aspiring young cohort of Indian consumers and Warikoo is that while many other Youtubers confine themselves to selling small courses or limiting their expertise to network marketing on YouTube, Warikoo makes it evident that he's not just a YouTuber," said Agarwal. In other words, he's packaging himself as a company.
"Warikoo is on his way to become the Gary Vee of India," said Agarwal. Gary Vaynerchuk aka Gary Vee is an American serial entrepreneur and an internet celebrity marketer who has built a successful brand by producing highly engaging and inspirational bite-sized content on social media. Vaynerchuk is also a best selling author, an in-demand public speaker and runs his own media company called VaynerMedia.
Warikoo at the launch of his book, 'Do Epic Shit'
The book
In December last year, Warikoo published his first book titled Do Epic Shit. In typical Warikoo fashion, he dedicates this book to "all the failures and roadblocks in life". The book itself isn't by any means a literary masterpiece. Again, by design, said Warikoo.
"The book was basically speaking to my audience who doesn't read as often but they do know that reading is a good habit," said Warikoo, adding that the book that is mostly a compilation of stuff he's mentioned in his videos was just another medium of communication for his growing community.
Warikoo's book quickly grabbed the top spot on Amazon's bestseller in the self-help category and created a buzz on social media, as well. His team that also runs a meta page on social media called Waricrew regularly posts funny memes on Warikoo, on brand with his relatable image on the internet.
Being internet famous in India is confusing to say the least. You are popular enough to be invited to an important panel discussion on the future of Indian education but there's a high chance not everyone on the panel has even heard of you. You could be a hero worshiped by a certain set of people in the country but it's likely that your parents still don't approve or understand your career choice. You could be making tons of money by creating useful content online but a large section of people still call you a hack.
When someone like Warikoo, who has a history of being good at building businesses, decides to become a full-time content creator, there's a section of people, mostly his peers and colleagues in the startup ecosystem, who think it's a stepdown for him.
"People in his peer group on the internet might distort him as some kind of guru or a modern-day Shiv Khera who after building NearBuy has become a Youtuber or a Twitter celeb now. What people don't see is that his numbers are solid," said Akhilesh Bali, founder of Limetray and Warikoo's friend. "I feel that sometimes his personality overshadows his business sense."
Warikoo said over the years he has learned to separate the messenger from the message and takes all the trolling, feedback and criticism positively if it helps him become better.
"What he's doing right now is truly in resonance with him as a person," said Ankur Singla, angel investor and also Warikoo's long-time friend.
"He (Warikoo) loves to mentor. He has an extraordinary level of EQ and great business sense. His revenue numbers are great and in his mind he probably has 20 ideas on how to scale this further," said Singla, who built the super app Tapzo that was acquired by Amazon Pay.
A common criticism against Warikoo's content is also that it is dumbed down and simplistic.
"I am trying to speak to an audience that is not the one that is my peer. I don't expect anyone of my ISB batchmates or my entrepreneurial peer group to be consuming my content. If they do, they're being very generous, frankly, not designed for them," said Warikoo.
Having found his target age group, Warikoo said his content won't evolve as his consumers do. Rather he expects to add more people to his new batch as he simplifies complex topics to confused young Indians. Like a college professor, Warikoo said he will celebrate the graduation of his current batch as he welcomes his next.