Main Specifications
Contents
Last week Intel has finally lauched its 64-bit Pentium 4 processors, competing face-to-face to AMD's Athlon 64. The following models were released: 630 (3 GHz), 640 (3.2 GHz), 650 (3.4 GHz), 660 (3.6 GHz) and 670 (3.8 GHz). The main specifications for these new processors are the following: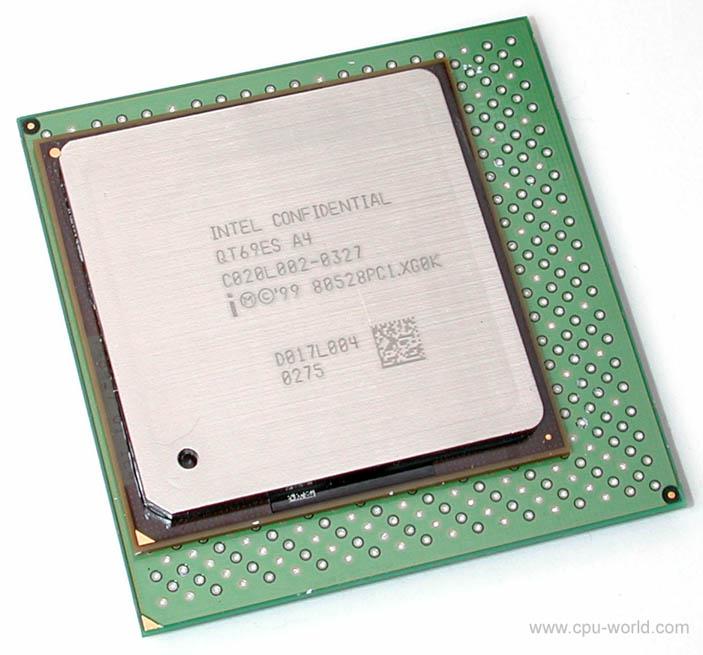 Together with the 64-bit Pentium 4 launch, Intel also has released a 3.73 GHz Pentium 4 Extreme Edition, with the new 1,066 MHz external bus and 2 MB of L2 memory cache, promising to be the fastest Intel CPU available today. But this CPU is for a few bunch of geeks: it is priced at US$ 999 for distributors in the USA if bought in 1,000 quantity.
Power
The 630, 640 and 650 Pentium 4 models dissipate a maximum power of 84 W, while the 660 and 670 models can dissipate up to 115 W, what makes them really hot CPUs.
Naming
As you can see, Pentium 4 processors with 64-bit technology use a numbering system which starts with "6", while the processors without this feature start with "5", making it easy to recognize if a Pentium 4 has or not this new technology. For example, both 540 and 640 Pentium 4 processors run at 3.2 GHz, but the 640 model has the 64-bit technology plus other new features not present on the 540 model, like the SpeedStep Technology and the 2 MB L2 memory cache.
Intel's 64-bit Technology (EM64T)
To use the 64-bit tecnology it is necessary a compatible 64-bit operating system. So far, only a very few Linux versions support this technology (like SuSE SL9.1 and SLES9; the Red Hat Enterprise Linux 3 update 2 will bring support to EM64T, but it will only be lauched in May). Windows users will have to wait until the Windows 64 reaches the stores. You can read more about this technology at https://www.intel.com/technology/64bitextensions.
It is important to note that the EM64T technology has nothing to do with the 64-bit technology used by the Itanium processors, called IA-64. 32-bit software runs without any problem in these new processors as well.
The main advantage of the 64-bit technology is making your CPU to see more RAM memory. The processors without this technology can access up to 4 GB of RAM, while the new 64-bit Penitum 4 can access up to 32 TB of RAM. Note the maximum amount of RAM memory you can have on your computer is limited by the motherboard chipset (since it is in the chipset that the memory controller circuit is embedded) and also by the number of memory sockets available on the motherboard.
SpeedStep Technology
Another new feature of the new 6 series Pentium 4 is the SpeedStep tecnology, present on Intel CPUs target to laptops. This technology allows the CPU to lowers its clock – thus the power consumption and the generated heat – and the fan speed (meaning less noise) in moments that the user is not using the computer at its full capacity.
XD (eXecute Disable) Technology
This tecnology prevents some kinds of virus to attack your PC, if your operating system supports it. In Windows world, you need to have Windows XP with Service Pack 2 installed in order to make this technology work.
It works by using a bit to indicate if a certain memory area is used by data or by a program (from this technique comes another name for this technology: XD bit). If a code installed in memory area flagged as data-only tries to run, the operation system blocks it, since this is not a normal behaviour (data cannot be "executed" – virus usually pretends to be data in order to be executed. Click here to learn more about this technology.