Jawbone has unveiled a new Yves Behar-designed band design for its UP2 tracking device and announced a new firmware update for a few of its fitness tracking devices that will enable new heart rate and sleep tracking features. The company
confirmed to CNET
that it would replace existing UP2 users' devices with the new one if requested because of an issue with the legacy device's clasp.
For devices that already have heart rate tracking functionality -- the UP3 and UP4 -- Jawbone has added passive heart rate tracking. And for the UP2, UP3, and UP4, Jawbone has also added automatic sleep detection.
Until now, the UP3 and UP4 devices have only tracked resting heart rate first thing in the morning. Now, these devices will also monitor passive heart rate, which is recorded throughout the user's day, during moments when users are still. The app will then help the user understand how resting heart rate compares to passive heart rate so that users can see how certain factors including caffeine, diet, and stress can affect their heart in daily life.
The automatic sleep detection update allows users who wear the band to bed to monitor when they fall asleep at night and when they wake up in the morning without needing to change modes on the band. The UP devices will send this info to the UP App, which will generate a sleep graph for the users.
Jawbone's newest UP2 tracker will be available online at Amazon, Jawbone, BestBuy, and Target immediately, and the company said the tracker would also be available at brick and mortar Best Buy, Target, and Apple stores coming in the following weeks. The return of Jawbone devices to the Apple store is relatively new.
In June,
just three months after
Apple pulled a number of wristworn fitness tracking devices from its stores, including Jawbone UP24 and Nike FuelBand SE, a Jawbone executive revealed that the company's devices would return to the Apple Store in the coming months.
Jawbone has made news a number of times this summer, though little of it was product-related -- Jawbone filed a few lawsuits against its competitor Fitbit.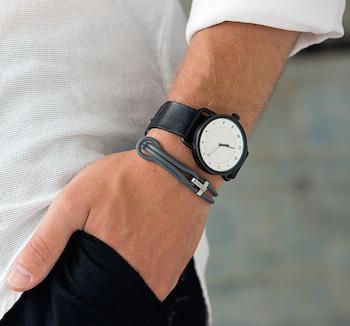 The Fitbit-Jawbone lawsuit feud first began in May, just a few weeks after Fitbit filed for an IPO. In that suit,
Jawbone alleged
that Fitbit poached employees who downloaded sensitive data about Jawbone before leaving the company. Then in June,
Jawbone filed a second lawsuit
, this time Jawbone sued Fitbit over alleged infringement of three patents Jawbone obtained when it acquired BodyMedia in 2013. BodyMedia's extensive IP catalogue was one of the key drivers of that acquisition.
And in July,
a report emerged
that Jawbone is trying to get the US International Trade Commission to block Fitbit's imports into the US based on the same complaints that form the basis of the two lawsuits against Fitbit.
This week, though,
Fitbit filed its own lawsuit
, suing Jawbone and its subsidiary, BodyMedia, in Delaware District Court, for alleged patent infringement.