AdvertisementAdvertisementElgin Courier-News |Jan 27, 2022at1:42 PM
Thank you for supporting our journalism. This article is available exclusively for our subscribers, who help fund our work at the Chicago Tribune.
Borden library gets $25K grant from Secretary of State
Gail Borden Public Library in Elgin is one of 211 libraries in the state to receive grant money from Illinois Secretary of State's Office to help in the COVID-19 pandemic recovery and expand their services.
The library received $25,187 from $6 million available in from the state in funds from the federal American Rescue Plan Act and Library Services and Technology Act, the Institute of Museum and Library Services and state technology funds.
Advertisement
Library spokeswoman Denise Raleigh said the money will be used to add to literacy resources and additional internet access and to fund other needed programs.
St. Charles accepting scholarship applications
The city of St. Charles, in partnership with the Illinois Municipal Utilities Association, is offering four $1,000 scholarships to eligible high school students in St. Charles.
Advertisement Advertisement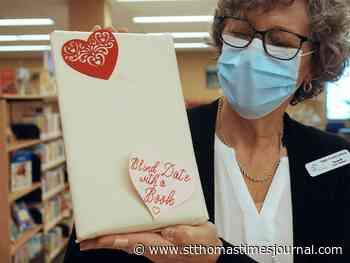 To qualify, applicants must be high school seniors whose parents or legal guardians are residential customers of city of St. Charles utilities. Eligible students must submit an application and essay of 500 words or less addressing one of four utility-related questions, officials said.
[Most read] Chicago Bears are expected to hire Green Bay Packers assistant Luke Getsy as their new offensive coordinator and name Ian Cunningham as assistant GM »
Applications and essays are due March 11. The application, list of essay questions and eligibility requirements is available at www.imea.org/IMUA_Scholarship.aspx.
For more information, call 217-789-4632 or email dbunch@imea.org.
Senator seeking Valentine's Day cards for seniors
State Sen. Donald DeWitte, R-West Dundee, is asking constituents to drop off or mail Valentine's Day cards, notes or letters for seniors now through Monday, Feb. 7, to his office at 641 S. 8th St., West Dundee.
Cards can be homemade or store bought and can include handwritten notes and drawings. DeWitte and his staff will deliver the cards to seniors at assisted living and long-term care facilities throughout the 33rd District.
For more information, email hseaver@sgop.ilga.gov or call 630-640-8402.
Kane Vax Hub holding COVID shot clinics in February
The Kane County Health Department will administer COVID-19 vaccination and booster shots from 1 to 5 p.m. on several Wednesdays and Fridays in February at the Kane Vax Hub, 501 N. Randall Road, Batavia.
Pfizer, Moderna and Janssen vaccines for adults and pediatric Pfizer doses will be available Feb. 2, 5, 9, 16, 19 and 23.
Appointments can be made online at KaneVax.org. Anyone requiring assistance with appointments should call 855-452-6382.
For additional information and current updates about COVID-19, go to KaneHealth.com or call 630-208-3801.
Advertisement AdvertisementAdvertisementAdvertisement
Latest Elgin Courier-News
AdvertisementAdvertisement
Most Read
Chicago Bears are expected to hire Green Bay Packers assistant Luke Getsy as their new offensive coordinator and name Ian Cunningham as assistant GM 1h
Illinois prisoners wrongly used to wash cars, shine shoes for IDOC employee fund, says government watchdog Jan 29, 2022
Ayo Dosunmu and Coby White are undergoing a ballhandling clinic as the Chicago Bulls strive to keep pushing the pace amid injuries in the backcourt Jan 29, 2022