1. Immunology
It's remarkable how much immunology has evolved over the past year (and in 2020). With the outbreak of the COVID-19 pandemic, immunologists were put on the spot to figure out how the coronavirus interacts with the human immune system and how to fight it most effectively. And they stepped up the challenge incredibly. Thousands, perhaps millions, of lives have been saved thanks to the ongoing work of immunologists worldwide in having researched and developed the COVID vaccines being taken around the world today. So if you want to study immunology and follow a non-COVID-related career, you will have no shortage of options.
2. Education and education technology
With schools closing down during lockdowns and classes being delivered either in a fully online or hybrid mode, education professionals have had to adapt to the inconstant setting of the pandemic quickly. The tools used in classrooms, from preschool classrooms to graduate schools, have changed and developed over this period and brought a boom to the EdTech sector. If you're passionate about education and have a taste for technology, a degree in the field will allow you to help shape the methods and tools used in the future.
3. Sustainability and environmental studies
The climate emergency has put sustainability and environmental studies at the forefront of climate action. Sustainability and environmental students are responsible for researching and creating solutions for reducing waste and pollution, increasing the use of green energy, and developing other ideas. There is a great variety of careers a sustainability or environmental graduate can pursue - all of which have been steadily growing over the past years.
4. Digital finance
The financial sector has been utterly transformed by technology. Nowadays, most people manage their money digitally, and transactions can be done as quickly as pointing your phone's camera to a QR code. Recent technologies that have taken over the financial industry are online banking, automated virtual assistants, electronic wallets, among others. Programs in this field prepare students to operate in the ever-changing financial sector and face the new challenges that arise every day.
5. Communication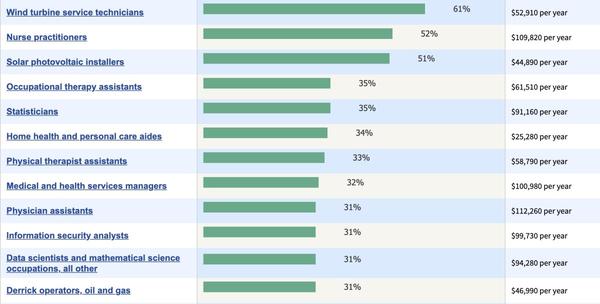 There is virtually no sector in the world that doesn't rely on communication. We've seen how effective communication has been fundamental in tackling and managing COVID worldwide; we've seen the importance of journalism (and how the ill-use of communication can facilitate the spread of fake news); we've seen how successful publicity and media campaigns can make or break brands and public figures. There is no limit to what a communications student can work in, and the innovation and creativity necessary in the field ensure the work never turns boring.
6. Politics and diplomacy
Over the past years, political extremism has come to the fore. During the pandemic, we have seen how issues like mandatory vaccination, masks mandates, and lockdowns became linked to certain political ideologies, turning the pandemic into a polarized discussion instead of a joint effort between all of humanity. Degrees in political science and international relations allow you to work in political campaigns, environmental organizations, human and civil rights organizations, charities, and related fields. Future politicians and world leaders face tough challenges but the current scenario is inspiring those who want to make the world better -- more harmonious and peaceful.
7. Nursing
The current pandemic pushed the global healthcare system to the brink, with many countries experiencing a complete collapse due to the lack of equipment and shortage of available staff. This led to active staff being overloaded with work and exhausted, which can negatively affect patient care. The healthcare industry is welcoming new generations of nursing graduates inspired by nurses' relentless and vital work during the pandemic, in a job as challenging as it is rewarding.
8. Business administration
Business is growing at a rate never seen before. Whether it's through multi-billion-dollar megacorporations or individuals deciding to start their own small enterprise, businesses around the globe constantly expand and put the need for qualified business graduates at an all-time high. A business degree can lead you to careers in business management, human resources, finances, healthcare, government, and a plethora of other sectors. Regardless of what specific field you choose, it's unlikely you'll ever run out of work as a business graduate.
9. Computer science and information technology (IT)
We become more dependent on technology with each passing day, using new gadgets and software that help make our life more practical. This trend has only accelerated with the pandemic as individuals and business become more tech-based and digital -- a movement set to stay even when things get back to 'normal'. Thanks to the unstoppable development of new technologies, we continue to see new trends emerge that can change our life completely. This sector is projected to grow 13% from 2020 to 2030 -- more than the average for other industries -- and with it, the demand for computer science and IT graduates to lead industries even further into tomorrow. If you're interested in trends such as artificial intelligence, robotics, cybersecurity, or quantum computing, this field could be the choice for you.
10. Accounting and finance
With the exponential growth of existing businesses and the constant emergence of new ones, professionals in every business position are in high demand, and it's no different for accountants. Accountancy has been transformed over the past years by new technologies such as AI and cloud computing, and it's expected to continue amid forthcoming digital trends. Luckily for accountants, just about every business needs someone to manage their money, so they don't have to worry about running out of options.
11. Engineering
It's no surprise STEM degrees are continuously at the top of rankings of most sought-after degrees. Engineering offers students countless specializations to choose from and a welcomed job stability after graduation. The most valuable specializations are architectural engineering, construction services, computer engineering, aerospace engineering, and transportation sciences and technologies. And if you're unsure about where to study, universities in the USA have some of the best engineering programs in the world.
12. Biology
Biology is a vast field, and a degree in biology allows you to pursue a number of specializations connected to some of today's most prominent sectors. Biotechnology, molecular biology, synthetic biology, agricultural science, biochemistry, and marine biology are only a few of the fields with a growing demand for experts. Of course, academic research has also played a fundamental part in controlling the pandemic and evolved significantly during this period. Biology majors can also work as high school teachers, medical health technologists, or lab technicians. In short, there is no limit to what you can do with a degree in biology!
Of course, while these are some of the most promising fields for the upcoming year, they aren't the only options you should be considering. Knowing what kind of program fits your goals is the primary factor to consider when deciding what to study. If you have decided on your ideal field of study, you're ready to start searching for the perfect university and program for you!